07. juli 2011
Video from the NEEM borehole
On July 1st. 2011 scientists at NEEM managed to film the journey of the drill down through the 2538m deep ice core borehole. The 20 sec. video clip that was sent out of camp shows the deepest part of the 2538m deep borehole.

Watch the video clip from the bottom of the 2538m deep NEEM borehole
The video clip that shows the approach to the bottom of the NEEM borehole at 2538m depth in the Greenland ice sheet, was met with big enthusiasm from the scientists involved in the NEEM ice core drill project.
It is the first time that a video camera has been mounted to the drill at the deep ice core borehole. The video made it possible to get a very clear picture of the bottom of the borehole.
The physical conditions at the bottom of the NEEM borehole: Temperature -3 C and pressure 220 bar.
"We were astonished to see the quality of the images and how clear the borehole fluid is", says Jørgen Peder Steffensen, associate professor at Centre for Ice, and deeply involved in the planning of the NEEM ice core drill project.
Use of a video camera opens up for new possibilities within ice core drilling

The video camera will aid the scientists in their attempts to drill even deeper into the debris laden bottom ice to obtain samples of basal material.
In the future, the camera will also be a help in improving drilling techniques and aid the scientists in drilling replicate cores by making diversion drilling at depth.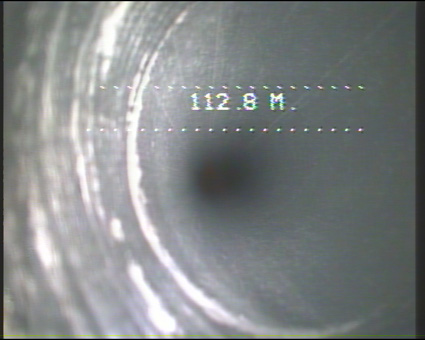 Photo from the borehole at the NEEM ice core drilling project on the Greenland ice sheet where scientists from 14 nations since 2007 have drilled a 2538m deep ice core and still carry out a large number of scientific research projects.

Read the field diaries from NEEM and get an idea about how the scientists live and work on the Greenland ice sheet
(The field diaries are sent out of camp all through the field seasons 2007 – 2011)
Read more about the North Greenland Eemian Ice Drilling project, NEEM
Read more about the research at the Centre for Ice and Climate